Duncan Bruce of Logan and Ylva Jonsdottir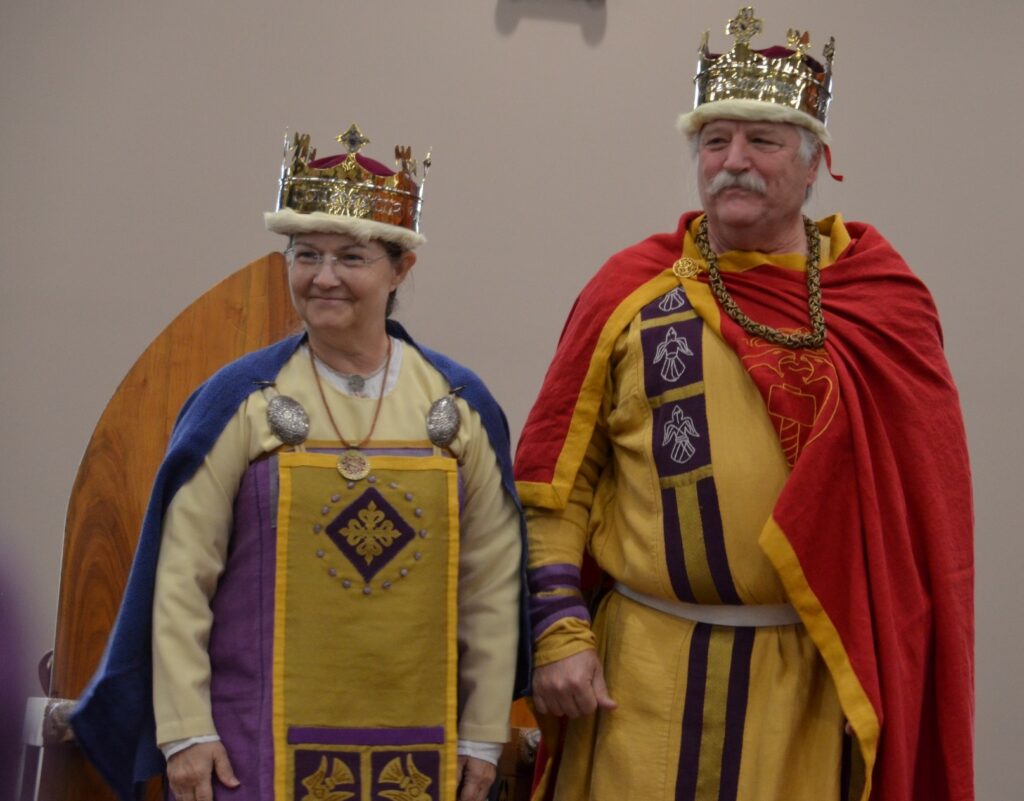 The Royal Household
Royal Scribe
Helena Soranzo
RoyalScribe@calontir.org
Royal Thegns
Volkmar Katzbalger
Brialen Ulfsdottir Vikings
Largesse Coordinator
Gwen A'Brooke
The Royal Champions
King's Champion
Gawayne ap Tristam
Queen's Champion
Ayisha bint Asad
Captain of the Guard
Nathaniel Lennox
Royal Whims
If Their Majesties have been informed that Feast is prepared and ready, do not delay the serving of Feast waiting for their presence.


if one is called into Court as part of a group, and you need to stand rather than kneel or sit, Their Majesties would ask that you move to one side, so that Their Majesties and the sight lines from the Populace are not impeded.


It is Their Majesties' desire that all things said unto them in Court, which are not meant to be secret, be clearly heard by all those present. When called into the presence of the Konung and Drottning to make a presentation, they ask that you turn your side towards them and speak so that the Populace may clearly hear your words.


Their Majesties would have it stated, for the record, that any Persona year with four digits, be considered to be Late Period.
Royal Edicts
His Royal Majesty
First century Calontiri. He was squired to Count Roderick of Mandrake Hill, and attempts to keep his memory alive through greatsword fighting.
He is willing to try his hand at just about anything, but is definitely neither an artist nor an artisan. He is a pretty good patron though.
He is terrible at keeping track of time, so needs to be reminded of appointments frequently, and wants to be on time. Reminders are NOT nagging.
Likes & Dislikes
FOOD
Likes to try new things and SCA period dishes.
Prefers to avoid mushrooms, but can pick out big chunks. Raw tomatoes are not finished, and therefore not eaten.
DRINKS
Coffee in the morning is a Good Thing(tm) (which is why I had a coffee squire). Water is always appreciated.
Alcohol is never required, but he is willing to try most things. He does not like sours or really hoppy beers, and absolutely will not drink something if he is not told what it is.
Colors & Symbols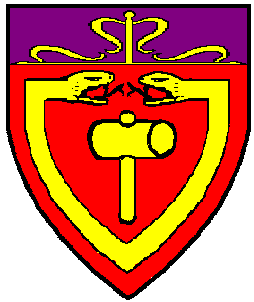 COLORS
Red, Gold
SYMBOLS
Hammer, Double-headed snake
Her Royal Majesty
First generation born to Norwegian parents on the Isle of Lewis, Scotland around 850 (modern era).
Very much likes to be punctual.
Is hearing challenged, so make sure you have her attention before speaking to her. Whispering is not likely to be productive. If she is using her phone, it is probably because she is changing the settings on her hearing aids.

Likes & Dislikes
FOOD
Likes to try new things and SCA period dishes.
Does not care for spicy hot foods. Tends to be skeptical about okra.
DRINKS
Morning – coffee, Daytime -water or tea ( iced, hot, regular & herbal)Does not generally like sekanjebin.
Alcohol – never required. Appreciates mead, medium sweet wines, gin & tonic.
Colors & Symbols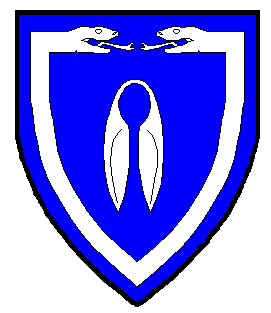 COLORS
Blue, White
SYMBOLS
Shears, double-headed snake, red-winged blackbird