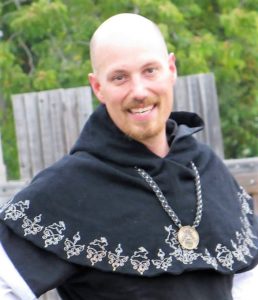 An Introduction to the SCA
The Society for Creative Anachronism, or SCA, is an international organization dedicated to researching and re-creating the arts, skills, and traditions of pre-17th-century Europe. Members of the SCA study and take part in a variety of activities, including combat, archery, equestrian activities, costuming, cooking, metalwork, woodworking, music, dance, calligraphy, fiber arts, and much more. If it was done in the Middle Ages or Renaissance, odds are you will find someone in the SCA interested in recreating it.
Active participation is key in the SCA. Our fighting is as real as we can recreate it safely. Our garb, arts, and sciences are all researched and practiced in a medieval manner. The SCA is a hands on organization. If you want to know what it feels like to make, wear, and do what people did in the Middle Ages, the SCA is a great group for you.
You will frequently hear SCA participants describe the SCA as recreating the Middle Ages "as they ought to have been." In some ways this is true — we choose to use indoor plumbing, heated halls, and sewing machines. In the dead of winter we have more to eat than King's venison, salt pork and dried tubers. However, a better description is that we selectively recreate the culture, choosing elements of the culture that interest and attract us.
How is the SCA organized?
The SCA "Knowne World" is divided into Kingdoms, each ruled by a King and Queen who gain the throne by winning a Crown Tournament, held semi-annually. There are also a Prince and Princess (the heirs to the throne), and a council of Great Officers who handle the day-to-day business of running the kingdom.
Within a kingdom (which may cover many states and thousands of square miles) there are subdivisions called Principalities, and local chapters called Baronies, Shires, and Cantons. Each group has its own slate of officers to run it. It is the members of the local chapters who actually plan and run the events, practices, and other activities for SCA participants.
This page is part of the Kingdom of Calontir's official Web site. Calontir encompasses Iowa, Kansas, Missouri, Nebraska and Fayetteville, Arkansas. If you live within these borders you can find your local group here.
Congratulations!
You have found the "key" to unlocking a whole new world!
Come join us in an immersive and diverse realm recreating the best aspects of the Middle Ages and Renaissance. My name is Sir Cai Dubhghlas (Kay Douglas, image above). Allow me to be your guide while you explore all of the enchantment and possibilities our organization has to offer. Finding "guides" in our group is easy, just look for those persons wearing the Gold Key on a green background. At outdoor events look for the area with a banner with this Gold Key to help you find us easier. Any person wearing this symbol will be more than happy to help you begin or even further your experiences within our organization.
The Society for Creative Anachronism (SCA) has groups around the entire world and includes cultures that spanned the globe during medieval times. Our group contains personas (created entirely by you) as far back in time as ancient Egypt, Greece, and Rome going forward up to the year 1600 CE.
Helpful Links
Find a group near you!
Calontir Newcomer FAQ

An Introduction to Calontir
Kingdom of Calontir Facebook Page
Kingdom of Calontir Facebook Group
If you live outside Calontir
How to find the local group near you

Search for your kingdom

Additional Resources
Excellent information for not only newcomers but also for anyone wanting to learn more about the Society for Creative Anachronism:
Forward Into the Past
A introductory booklet published by the Society.

Society for Creative Anachronism Newcomer's Portal
An overview of various activities in the SCA, including many arts and sciences.

Children's Activities
For the Youth
The Society has many activities geared not only towards children and youth, but also towards the family as a whole. Many events and gatherings offer children's activities for a variety of ages where children can learn more about the Middle Ages through lessons, hands-on arts and crafts, and games. Just as the grown-ups get involved in combat activities, in many kingdoms youth combat starts as early as age six. Youth also participate in archery and equestrian activities.
We encourage our youth participants to find ways to engage in service just as the adults do! As the children grow older, they'll find opportunities to serve in important ways at events, from helping out in the kitchen to heralding on the field.
For the Parent/Guardian
We are pleased to see families coming together through a shared love of the Middle Ages! Many of the earliest participants in the Society are now the parents of participants who themselves are bringing their children to the organization. We encourage parents and guardians to find ways to enjoy the Society together such as learning crafts that are fun for both kids and adults, sharing songs and stories together around the campfire, and serving together at events.
We place the safety of all our participants as our highest priority, not just the warriors in armor. Every kingdom has guidelines in place for monitoring children's activities by age, including ensuring that children too young to be unsupervised stay in reach of their parent or guardian. For activities such as classes and workshops that go on simultaneously with activities for the adults, we require two supervising, unrelated adults to be present at all times, and we have a background check system in place for all officers who supervise children.
For more information on Calontir's guidelines for Children's activities, please go to the Minister of Youth page.
Links for Parents
Dressing Children in the SCA
Calontir Youth Combat Page
Society Youth Combat Page
Calontir Youth Activities Page